← Floor 4 →
Part of
Episode 6
Par time
6:00
Music
"Zerohour"
Secrets
2
Treasure
Crosses
2
Chalices
5
Chests
16
Crowns
0
One Ups
0
Total
23
Enemies
Difficulty
Guards
13
23
33
SS
6
13
23
Dogs
4
6
9
Officers
13
26
45
Total
36
68
110
Highscore


(before bonuses)

29000
39100
53300
Stub

This article is a stub, an article too short to provide more than rudimentary information about a subject. You can help Wolfenstein Wiki by expanding it.
Episode 6, Floor 4 is the fourth level of Wolfenstein 3D episode "Confrontation". This level, as well as the next, is more straightforward than the previous three (four counting the secret level).
Strategy
[
]
This level is fairly straightforward and not much of a walkthrough is needed. One rule of thumb: Until you have both keys, when you have a choice of a door and the left and right, take the door to the right first, as it leads to an area with one of the keys. Also note many enemies are deaf in the grey brick room with the four steel islands (the last room in the level) and can easily take you by surprise if you're not careful.
Secrets
[
]
This level has 2 secrets.
One is on the left of the blue knight on the far left before the area of apricot wall with wooden frame,
the other is on the room where you get the gold key.
Map
[
]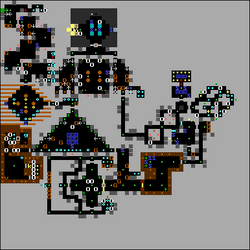 Video
[
]