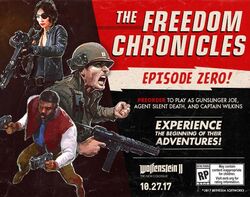 Episode Zero is the first of four DLC packs for Wolfenstein II: The New Colossus. It is included in the game's season pass, and is free for anyone who pre-orders the game. The event of the DLC takes place after B.J. and his allies capture the Ausmerzer, execute Irene Engel and ignite the Second American Revolution.
Episode Zero introduces you to Joseph Stallion, Jessica Valiant and Gerald Wilkins as they fight for freedom in the American Territories. Blast your way through Nazis using unique abilities and an arsenal of guns in this opening DLC mission.[1]
The episode starts with a narrator telling the player of each story that goes into gameplay of a volume. In The Adventures of Gunslinger Joe, Joseph Stallion falls into the sewers and returns into the Omega Station. After killing the Commanders and reinforcements, Stallion uses a lasergewehr to shoot the crate and rides the Panzerhund to the end. In The Diaries of Agent Silent Death, Jessica Valiant goes on the hunt for Chuck Lorentz, sneaking her way and making it pass the courtroom section. In The Amazing Deeds of Captain Wilkins, Gerald Wilkins sneaks into Nazi base on the Kodiak Islands, eventually destroying the first super cannon.
Station Omega, Springfield, Illinois (Volume 1)
Paragon Film Studios, Hollywood, California (Volume 2)
Kodiak Islands, Alaska (Volume 3)
The only section that doesn't appear in the final release is the opening of Gunslinger Joe's, with him starting in the sewers, fighting a drone and soldier that leads to him getting the Panzerhund. That being said, Joe does fight two drones in the sewers, in volume two of the final release.
Games in the

Wolfenstein series

Parantheses ( ) denote expansion packs for the previous game, brackets [ ] denote alternate versions of the same game

Original games
Activision series
MachineGames series
Other Titles
Community content is available under
CC-BY-SA
unless otherwise noted.