No Man's Sky Update - The Loop
Play Sound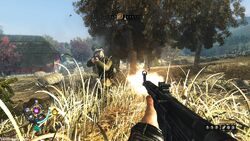 The Farm is the first mission that is given by the Golden Dawn to search for the resources of a Small Fragment of the Black Sun Energy Crystal that one of the member have caught inside the Facility. This level features a new enemy, The Sniffer, a Black Sun Experiment that used normal humans as the host and were subsequently turned into hideous abominations; they are considered a success compared to the failure of their first test subject. Also, B.J. finds a new veil power (Shield) in this mission.
Background
[
]
It is unknown when the German forces had built the underground base or how it even existed during in the War at all.
Mission (step-by-step)
[
]
Investigate the Farm.
Rescue the Golden Dawn Member.
Obtain the Crystal.
Return to Midtown.
Items
[
]
There are 19 Gold, 5 Intel and 2 Tomes found in this location.
Gallery
[
]