← Floor 15 →
Part of
Return to Danger
Par time
6:00
Secrets
7
Treasure
Crosses
6
Chalices
6
Chests
13
Crowns
25
One Ups
0
Total
50
Enemies
Difficulty
Guards
11
20
25
SS
35
42
47
Mutants
13
20
30
Officers
8
12
16
Total
67
94
118
Highscore


(before bonuses)

172500
183400
195000
Stub

This article is a stub, an article too short to provide more than rudimentary information about a subject. You can help Wolfenstein Wiki by expanding it.
Floor 15 of Return to Danger is shaped like a giant game of tic-tac-toe.
Though not visible without a map editor, the text "THE ONLY WAY TO WIN IS NOT TO PLAY !" is written in the whitespace outside the regular map area by using differently colored walls. This is an allusion to the famous line from WarGames: "A strange game. The only winning move is not to play."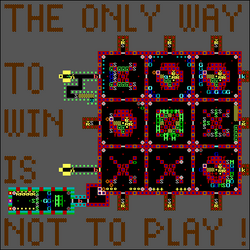 Community content is available under
CC-BY-SA
unless otherwise noted.