← Floor 19 →
Part of
Return to Danger
Par time
None
Secrets
7
Secret level
Yes
Accessed from Floor 4
Treasure
Crosses
54
Chalices
14
Chests
9
Crowns
6
One Ups
0
Total
83
Enemies
Difficulty
Guards
19
31
38
SS
6
15
26
Mutants
8
14
19
Officers
2
6
7
Total
35
66
90
Highscore


(before bonuses)

62700
74200
84300
Stub

This article is a stub, an article too short to provide more than rudimentary information about a subject. You can help Wolfenstein Wiki by expanding it.
Floor 19 of Return to Danger, named "Eagle's Gift"[1], is the secret level in chapter "The Submarine Pen" and the first secret level in the entire game.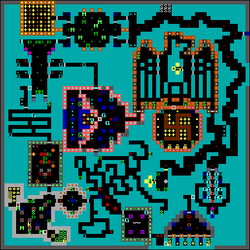 As you can see, there is the "Reichsadler"
(in english: the eagle of German Empire,
with the swastica under it's feet) on the
right half of the map.
And on the left half at upper side, there is
a swastica, too.
↑ Hemphill, Alan. Instruction and Hint Book for Mission 2: Return to Danger. FormGen Corporation, 1994. Page 35. Web. (Third-party scan)
Community content is available under
CC-BY-SA
unless otherwise noted.