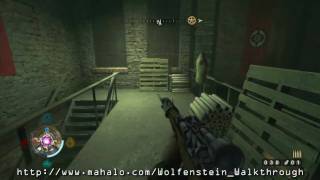 The SS Paranormal Base, It is the Fourth and Final Side-Mission in Isenstadt of Midtown right after completely the Side-Mission of the SS Headquarters and told by Golden Dawn Member to rescued them before executed by the Nazis.  
Background
[
]
The Base it located in at the entrance of the Midtown West where the Factory is. However, the front door is completely barricaded as only can be entering from left side of the rooftop top by the ladder inside.
Mission
[
]
Rescue the Golden Dawn Members
Return to Midtown
Walkthrough
[
]
Items
[
]
There are a Total Ten Gold, Four Intel and One Tome found in this level.
Video
[
]