← Floor 8 →
Part of
Spear of Destiny
Par time
2:45
Secrets
4
Treasure
Crosses
10
Chalices
39
Chests
9
Crowns
3
One Ups
2
Total
63
Enemies
Difficulty
Guards
37
40
40
SS
12
27
42
Dogs
2
2
2
Officers
4
19
24
Total
55
88
108
Highscore


(before bonuses)

56200
70000
79500
Stub

This article is a stub, an article too short to provide more than rudimentary information about a subject. You can help Wolfenstein Wiki by expanding it.
Floor 8 of Spear of Destiny is the eighth level in the game and the third level in chapter "The Dungeons". One of the toughest level to pass through even when you are on intermediate difficulty. Only 4 secret rooms in this level but they are located on the important areas but amongst them one is very near to your door where you are entering. That secret door has nothing except few SS, if you open that secret door first, then you will be in trouble.
You can't fight all the guards, officers and SS in this stage particularly. You will notice lot of doors, but no rooms really - they're all passages connected to each other, which can cause confusion. The best tactic is rather than going around and killing everyone, open a door and shoot into the room. All nearby enemies will hear this and come to you: Just hide yourself and keep shooting any guard that appears. When they're all gone, you can freely roam this level.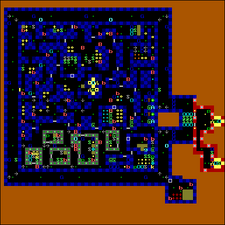 Community content is available under
CC-BY-SA
unless otherwise noted.