Raise a Floppa - The Loop
Play Sound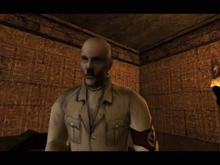 Professor Werner Schmidt was a scientist who worked with and led Afrika Korps Excavation Team in Ras el-Hadid. He appears only in console-exclusive Cursed Sands campaign for Return to Castle Wolfenstein.
During the events in Egypt he and his team of archaeologists have been tasked with recovering a pair of ancient tablets. In opening cutscenes of Ritual Chamber and Burial Tombs, he is being berated by Helga von Bulow, who demands him to show where the ancient tablets she came for are, despite his warnings of the ancient curse. After Helga gets the tablets, triggering the curse, he runs away. What happens to him after that is unknown, since him or his body are not seen in the game, though it's most likely that he got killed off-screen by mummies (also, he may be the one who is screaming at the end of the opening cutscene in Burial Tombs).
One of the other scientists, Gustav Mehlinger, wrote him a letter that he found the secret compartment with valuable artifact and told him to keep it safe from the Nazis, which means that not all scientists in the team were supporting Nazism.
Trivia
[
]
Considering some letters and documents in Cursed Sands, there is actually supposed to be more scientists, but he is the only one who makes an appearance.
He seems to be the counterpart of Prof. A Zemph in Cursed Sands campaign. Both were rushed up by Helga von Bulow and both were opposing the Helga's reckless orders, though their personalities are kinda reversed. While Zemph is more serious and brave, to the point that he even tried to stop Helga (at the cost of his own life), Schmidt is softer and cowardly.